RU Book Advance discontinued for New Brunswick students
The RU Book Advance program has been discontinued for the New Brunswick campus. This is replaced by First Day where digital course materials are made available to students directly from Canvas. If you are a student enrolled in a course participating in the First Day program (as indicated on the Web Registration System) you will see an additional charge on your term bill listed as Digital Book Charge. You can opt-out of this program using the Course Material link in Canvas.
How to Change Your RU Book Advance Status 
If you are a full-time Camden or Newark student with a financial aid refund of greater than $500, $500 of your financial aid refund will be automatically transferred to a RU Book Advance Account for your convenience. This account can be used online or at your campus Barnes and Noble bookstore.
Your enrollment in the RU Book Advance, in the amount of $500, appears as "Other Fees" under the charges section of your account. Refunds are listed under the "Charges" section of your account.
Your RU Book Advance account will be automatically set up for you unless your financial aid refund is less than $500 or unless you elect to decline establishing the book advance account.  Instructions for changing your book advance status are as follows:
Step 1: Log in to the Online Term Bill (OTB). 
Step 2: Select the RU Book Advance Status button to review your status.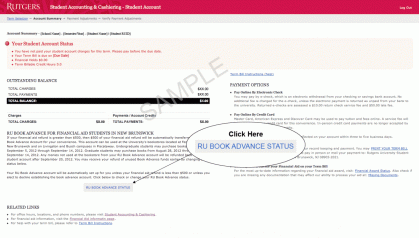 Step 3: The RU Book Advance Status page appears. You are automatically enrolled in the RU Book Advance. To change your status and opt out, select the second option.
If you opt out of the book advance program before purchasing your books, a refund check of $500 will be processed.
If you purchase books and spend less than $500, a refund check will be processed for the balance in about three to four business days. 
If you want the refund for the remaining balance to be processed more quickly, change your enrollment option to opt out and your refund will be available in about two to three business days.
Step 4: Select the Change Enrollment Option button at the bottom of the page and your status has been updated.