The budget model helps the university manage the distribution and flow of funds throughout the university. The Rutgers budget is built using a responsibility centered management (RCM) budget model, which is a decentralized model common in higher education. In an RCM model, units such as schools, centers, auxiliaries, and other responsibility centers have the responsibility and accountability for the revenue and expenses they generate. Central costs and services are supported through contributions that are proportionally allocated from those units that have responsibility for their own revenue and expenses.
This model's attributes are:
Alignment of revenues and expenses

Transparency regarding sources and uses of institutional resources

Awareness of resource trends

Facilitation of conversations surrounding institutional priorities

Funds set aside for strategic investment and institutional growth
RCM Allocation Methodology
Revenues are credited to the schools, centers, institutes, and other responsibility centers that generate them. They pay for direct expenses, and a share of the central and respective campus local administrative expenses that support them.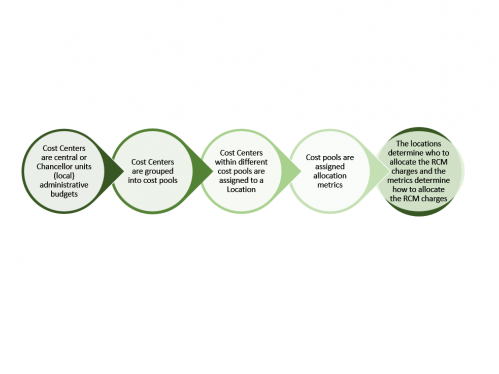 Cost Centers 
Cost Centers, or administrative budgets, are distributed in the RCM model. They are grouped into 11 cost pools that determine the metric used to allocate the cost to schools, centers, and other responsibility centers.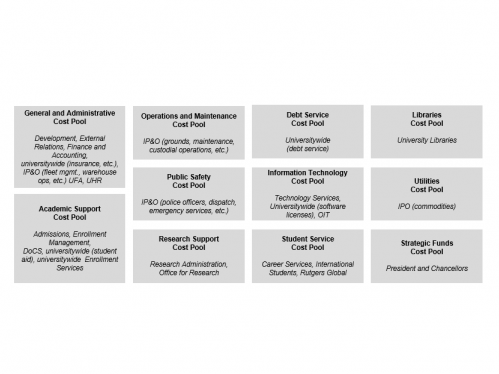 Responsibility Centers
Responsibility centers are the schools, centers, and other responsibility centers that pay for central and local administrative expenses using the RCM methodology. They are grouped into categories – instructional, centers and institutes, auxiliary, and other.
New Brunswick

EJB School of Planning and Public Policy

Graduate School of Applied and Professional Psychology

Graduate School of Education

Mason Gross School of the Arts

Professional Science Master's Program

School of Arts and Sciences

School of Communication and Information

School of Engineering

School of Environmental and Biological Sciences

School of Management and Labor Relations

School of Social Work

Newark

Rutgers Business School

School of Arts and Sciences - Newark

School of Criminal Justice

School of Law Newark

School of Public Affairs and Administration

Camden

Faculty of Arts and Sciences Camden

School of Business Camden

School of Law Camden

School of Nursing Camden

RBHS

Ernest Mario School of Pharmacy

Graduate School of Biomedical Sciences

New Jersey Medical School

Robert Wood Johnson Medical School

Rutgers School of Dental Medicine

School of Health Professionals

School of Nursing

School of Public Health 

New Brunswick 

Alcohol Studies 

Center for Discrete Mathematics and Theoretical Computer Science

Eagleton Institute of Politics

Human Genetics Institute of New Jersey

Institute for Quantitative Biomedicine

Institute for Women's Leadership

Laboratory for Surface Modification

New High Energy Theory Center

New Jersey Agricultural Experiment Station

Waksman Institute of Microbiology

RBHS

Brain Health Institute

Cancer Institute of New Jersey

Center for Advanced Biotechnology and Medicine

Environmental and Occupational Health Sciences Institute

Institute for Health, Health Care Policy and Aging Research

Public Health Research Institute

Rutgers Institute for Translational Medicine and Science

University Behavioral Health Care

New Brunswick

Athletics- Division 1 Intercollegiate

Bookstore and Campus Retail New Brunswick

Dining New Brunswick

Golf Course New Brunswick

Housing New Brunswick

Parking New Brunswick

Student Affairs New Brunswick

University Press

Newark

 

Bookstore and Campus Retail Newark

Dining Newark

Housing Newark

Parking Network

Student Affairs Network

Camden

Bookstore and Campus Retail Camden

Dining Camden

Housing Camden

Parking Camden

Student Affairs Camden

RBHS

Bookstore and Campus Retail RBHS

Dining RBHS

Housing RBHS

Parking RBHS

Rutgers Biomedical and Health Sciences

Rutgers Health Group Cancer Institute of New Jersey

Rutgers Health Group New Jersey Medical School

Rutgers Health Group Robert Wood Johnson Medical School

Rutgers Health Group Rutgers School of Dental Medicine

Rutgers Health Group School of Nursing

Rutgers Health Group University Behavioral Health Care

Central